Full report attached as PDF.
I borrowed this driver from a friend who has yet to use it. The driver was tested on the same baffle all drivers I test are. Luckily, the baffle accommodates up to 10" drivers.
The data you see is a bit perplexing when compared to mfg "linear xmax" values, but IMO, the fact that Cms is the most limiting value could be an indication of it needing a small enclosure; which logic tells you anyway given the fact that it's a small sub designed for a small enclosure. Additionally, the forward offset is so great, it surely must be a design characteristic (at least, I'd hope) and I'm curious what the reason for this could be. I'd like to build a small box, mfg recommended size, to see what the effect on the results are. But, since all my testing is done in dipole fashion I must present this data in the same way I do all my other tests. So, my warning with this data is this: I do not know of any other 'shallow mount' woofers being tested with the Klippel and therefore, AFAIK, this is the first type of this kind of woofer to have results published for all to see. Let's try to consider the implications of the data before jumping to any immediate conclusions. IOW, let's discuss rather than brand.
Also, I want to note two things about this test:
First off, I was unable to resolve Bl. I pushed this driver as far as I feel comfortable doing. In fact, I pushed the suspension as hard as the Klippel would let me (25% protection on Cms) in three tests and never was able to resolve Bl.
Note the laxed distortion limiting percentages. I'm using these values as a 20% overall distortion set; which I've seen done in VC for subwoofers and I've discussed with Patrick. Providing overall 10% distortion parameters (82% Bl, 75% Cmin) is as easy as punching these numbers in to the test file so I can provide that should you guys feel that data set is more applicable.
Link to Driver:
http://www.madisoundspeakerstore.com/approx-10-subwoofers/sb-acoustics-sw26dac76-4-shallow-10-subwoofer-4-ohm/
Measured T/S Parameters:
Re = 3.1674 ohms
Fs = 24.1651 Hz
Zmax = 42.4726 ohms
Qes = 0.5582
Qms = 6.9271
Qts = 0.5166
Le = 0.7881 mH (at 1 kHz)
Diam = 207.0100 mm ( 8.1500 in )
Sd =33656.7797 mm^2( 52.1681 in^2)
Vas = 54.6781 L ( 1.9309 ft^3)
BL = 10.4873 N/A
Mms = 127.6607 g
Cms = 339.7849 uM/N
Kms = 2943.0386 N/M
Rms = 2.7982 R mechanical
Efficiency = 0.1299 %
Sensitivity= 83.1532 dB @1W/1m
Sensitivity= 87.1771 dB @2.83Vrms/1m
Klippel Linear Xmax Values:
X Bl @ Bl min=70% >8.5 mm
X C @ C min=50% 6.6 mm
Sample Data: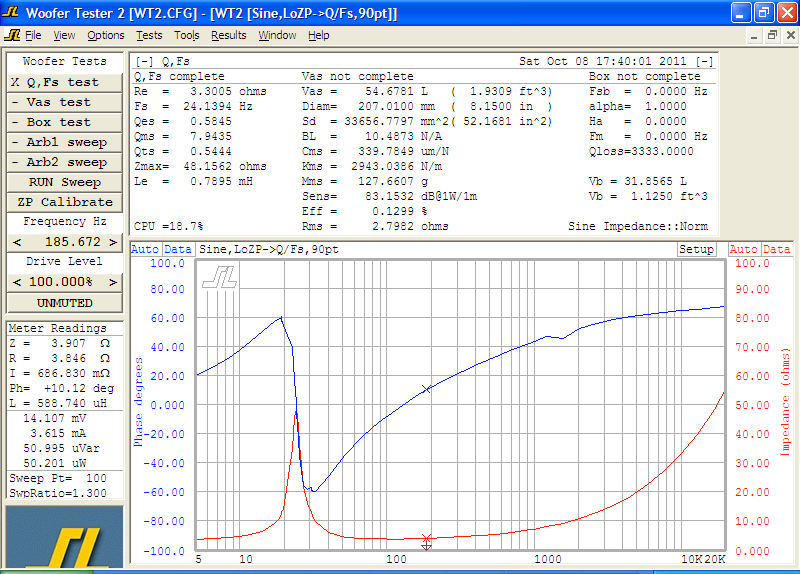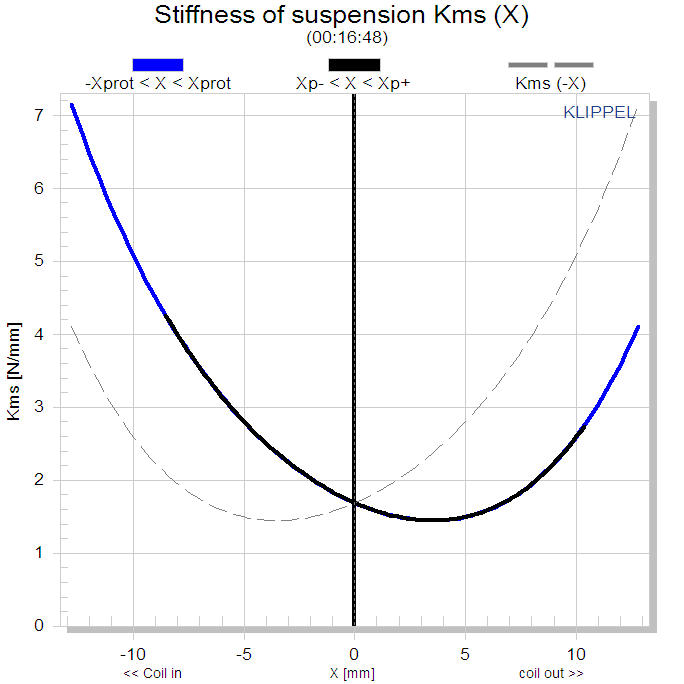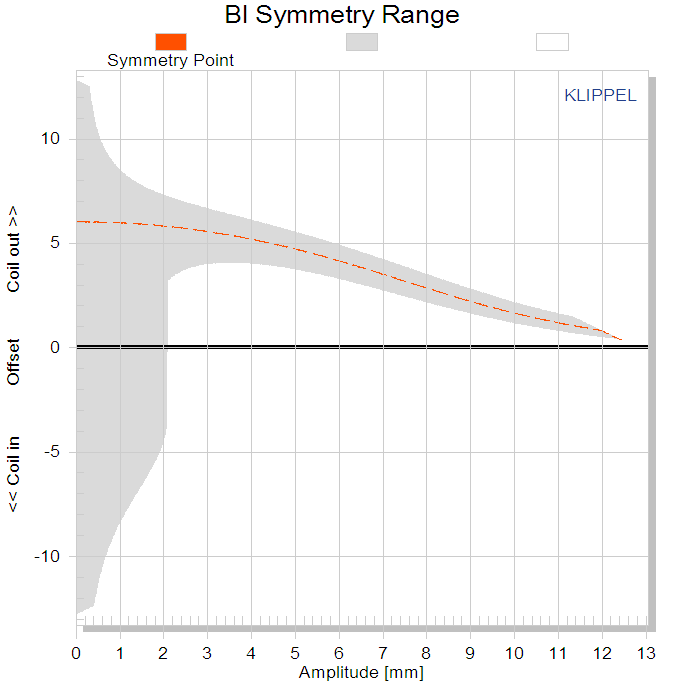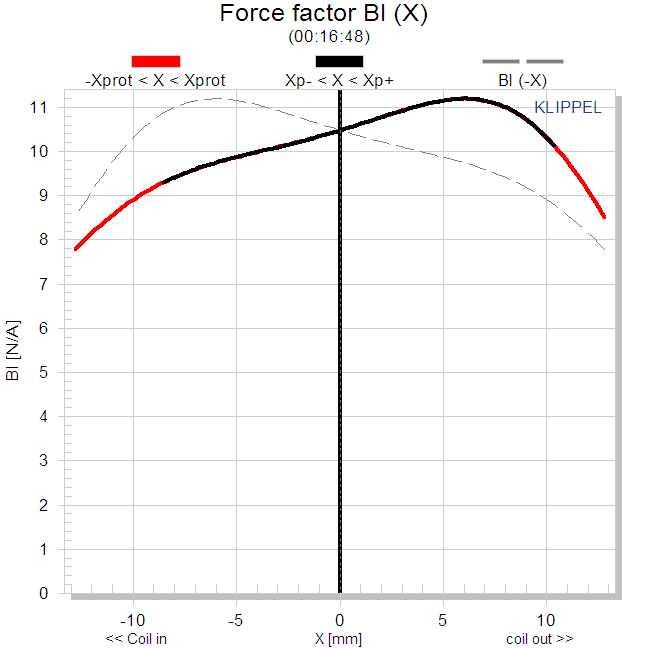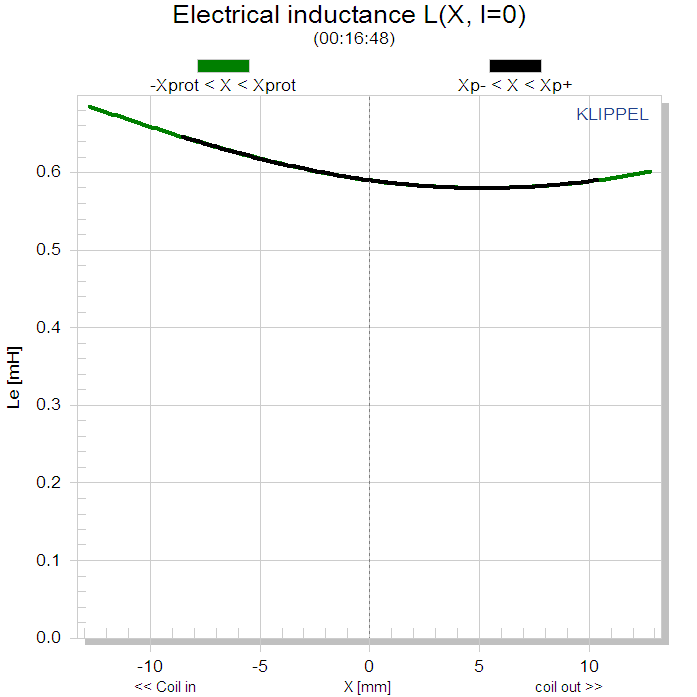 Pictures from phone: