I run a three way front staqe. My midbass drivers are required to play from approximately 60Hz up to 300Hz crossed over with 24db/octave filters at each end.
Drivers I have tried:
a/d/s/ 346is
Image dynamics XS65
Scanspeak 18W revelator
Peerless SLS6
Mpyre 65m
I will not include my thoughts on the a/d/s/ and Image Dynamics drivers as they were used in a 2 way front stage vs. the 3 way I have now. Both drivers were great in the vocal range but peter out below 80Hz. The exception would be the Scan 18W. It did GREAT in the lower octaves an of course excelled in the upper octaves. My favorite for a two way front stage. But, I digress, this review is for midbass duty only.
I'll start with the Scans: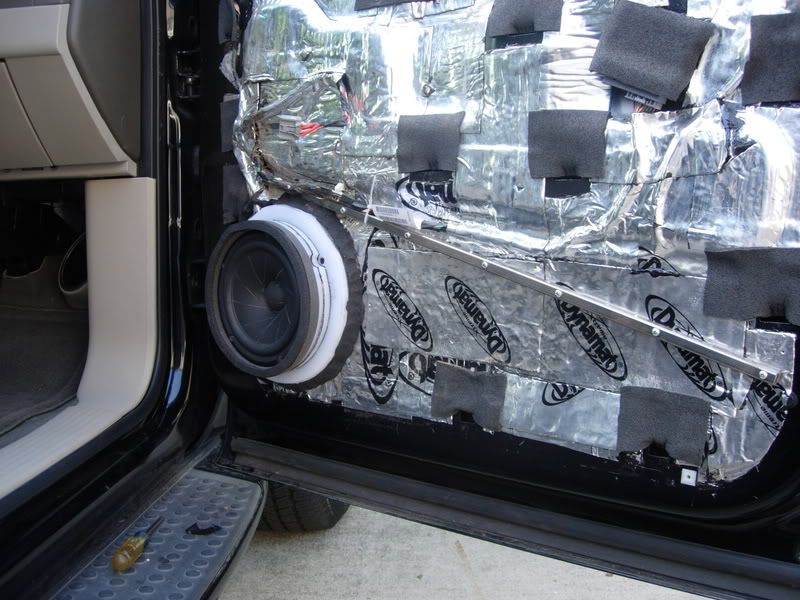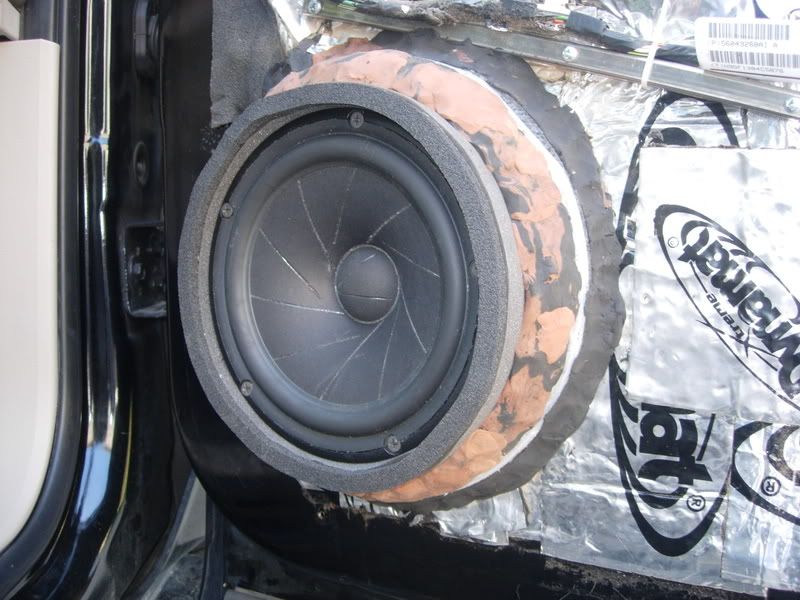 I hope my install did them justice. What can I say about these drivers? They are the perfect solution IF you don't get rowdy and crank them up when crossed below 80Hz mounted IB in a door. They offer THE BEST bass extension combined with upper octave extension I have ever encountered. However, they are not the best solution for midbass only duties. They tended to make a lot of mechanical noise and stress while pushed too hard down low. Something they were not designed for mind you. But, when push comes to shove, you want good bump up front at all times. Even when you kick up the volume a notch or two
.
Next, the Mpyre 65M: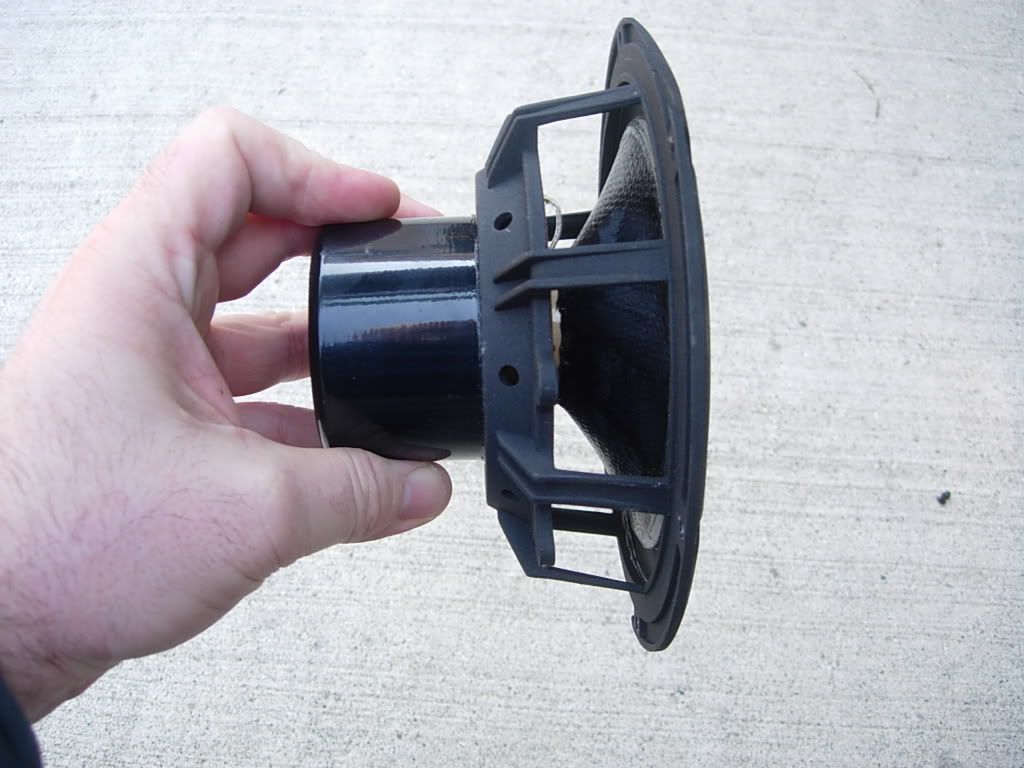 The 65m is based off the same XBL2 stuff the Adire Extremis was fashioned from. Quite a nice (and REAL light) driver due to its Ne0 motor. Though, it was about 1/8" deeper than the Scan 18W or SLS6. It produced an abundance of midbass crossed 55Hz up to 300hz. Its upper frequency response was OK too, but, I didn't use it in this fashion for this evaluation so I won't go into details. It was a tough call between this and the SLS6. However, in the long run, I could sense the speaker was stressing a little when I really laid on the volume. I could hear it sputtering a little when playing bass heavy content. Mind you, it did so gracefully, but, if I can hear anything but music it is a distraction. It behaved well and was totally satisfactory up until approx 113db. After that, I could sense that all was not well with it living in this environment.
Enter the Peerless SLS6: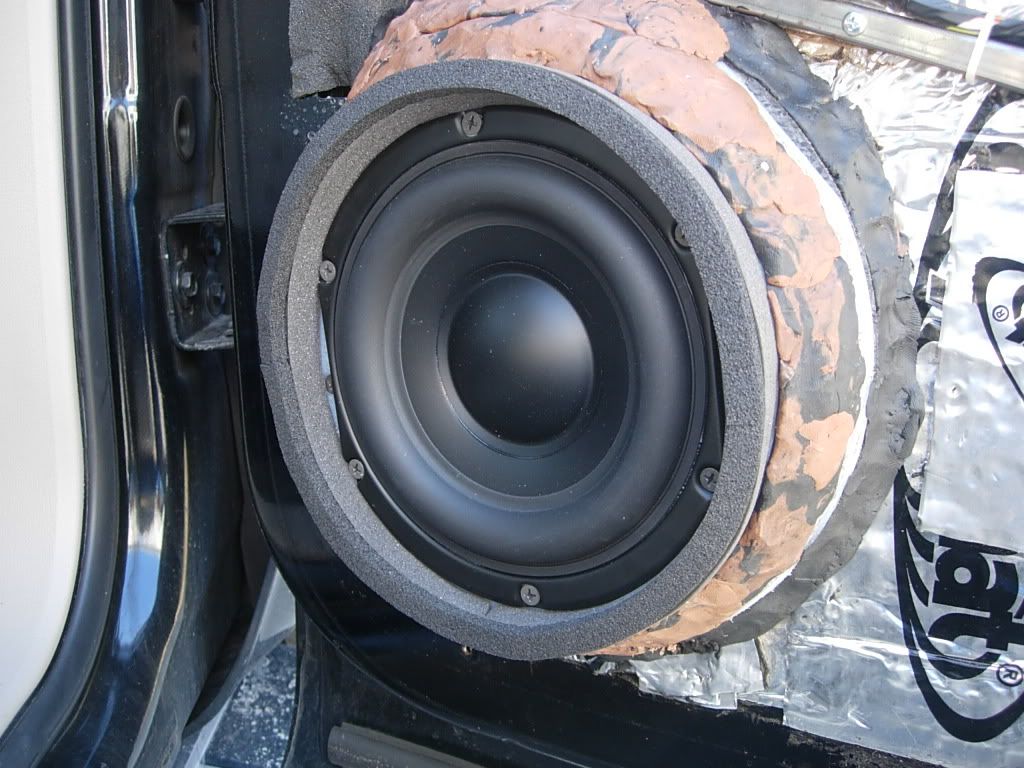 Quite a plain looking driver to the blind eye. Its response drops off like a brick wall above 500Hz. However, this sucker can POUND down in the lower octaves. I run mine from 50Hz up to 300Hz. Unless I reach the upper extremes of its power handling I can't even tell they are there. These suckers take a licking and keep on ticking. They do nothing but midbass and they do it well. I hear no mechanical noise from the motor what so ever. They are like the Energizer bunny. They keep going and going and going. I was going to try an 8" driver in my doors. However, I doubt many will beat this little gem unless they have a clean 8mm of x-max or greater and make no mechanical noise. The only thing I think would be better for midbass would be an SLS8. I can't tell you enough how happy I am with these little SOB's. Clean midbass 53Hz to 300hz at levels up to and exceeding 114db. No signs of stress or mechanical noise whatsoever. They just disappear. I defintely would not use them in a 2 way front stage setup. But, if you run a 3 way front and are limited to the diameter or depth (in my instance) of a 6.5" driver then seriously consider trying these cheap little suckers out. You will not be sorry.
I'll post RTA plots if you want to see them. All three drivers are pretty much the same from 50Hz up to 300Hz. The Scan and the SLS6 beat out the Mypre by about 5db from 70Hz down to the crossover limit of 50ish Hz on my passengers side. Everything else is equivalent.
The major difference being the mechanical noise mentioned throughout this review.
1st: Peerless SLS6
2nd: MPypre 65m
3rd: Scan 18W.
Mind you others (err, like Matt R) were able to get excellent results from the Scan 18W. However, they mount theirs in a closer proximity to a real and optimized enclosure or doubled up on drivers to alleviate the x-max mechanical displacement problem like Kevin K. Given my circumstances, and my install, the SLS6 is the driver for me.
This may not be your idea of a perfect review. I don't add the fluff you may be accustomed to. But, if you have questions please feel free to ask away...
Ge0