The ultimate poor mans 15" boom box, (6th order BP for low frequency reinforcement)
The idea sprouted when I ended up with a spare driver. We thought the system is already loud and sounds good with rock/country but falls flat on its face with rap, this problem needed to be solved. and I'm a poor college student so i need to fix the problem on the cheep...
Project goals - Build a box that will fill out the low tones that my cheap 70s era budget system just cant reach on a seriously tight budget using only what i have available. Sound quality is minimally important as I'm covering a small frequency band - roughly 25 to 65hz and the rest of my set up is nothing spectacular anyhow. I blew most of the budget on poly fill, i think im up to about $10 lol. most of the materials were free one way or another...
anyways,
driver - 15" fisher from an stv series cab. I had a set with one blown mid and one blown sub, I used them for firewood and saved the working components.
materials - 1/2" plywood (lol) some 3/4" for bracing and the baffle board the sub mounts to.
box design - 6th order bandpass, big chamber is 10.5ft tuned to 27hz, slot port. small chamber is 2ft tuned to 65hz, four 2.25" round ports.
No I could not find driver specs, I tried several cheap pre loaded woofers that seemed similar to this woofer in winisd and found results to be reasonably similar as long as it was a low excursion paper cone 15" woofer from the time period. accurate - not at all, but workable for my intentions. so i started out with this design and figured on changing it a bit later.
some pics, I have since had to add much more bracing but this is how it started out.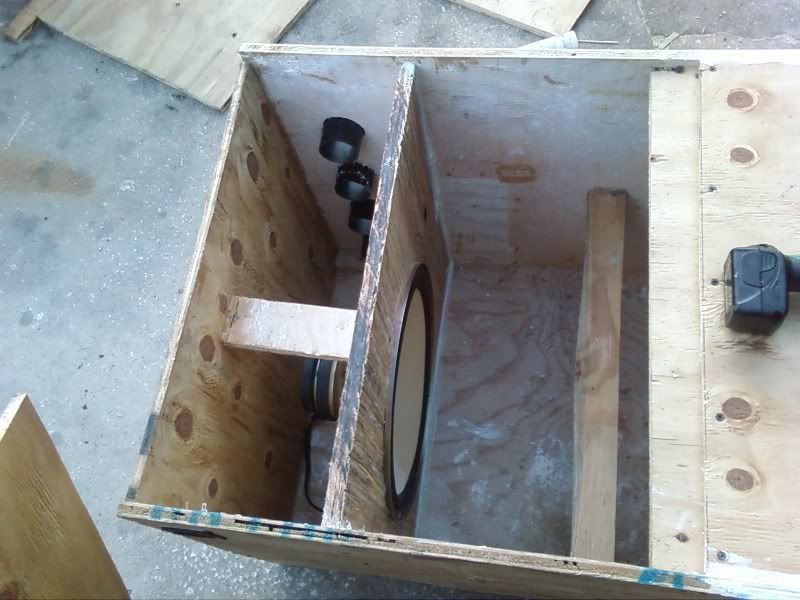 notice I added some caps for a simple 1st order 27hz high pass. not ideal but I don't want to bi amp this thing or have to order inductors online for a higher order filter.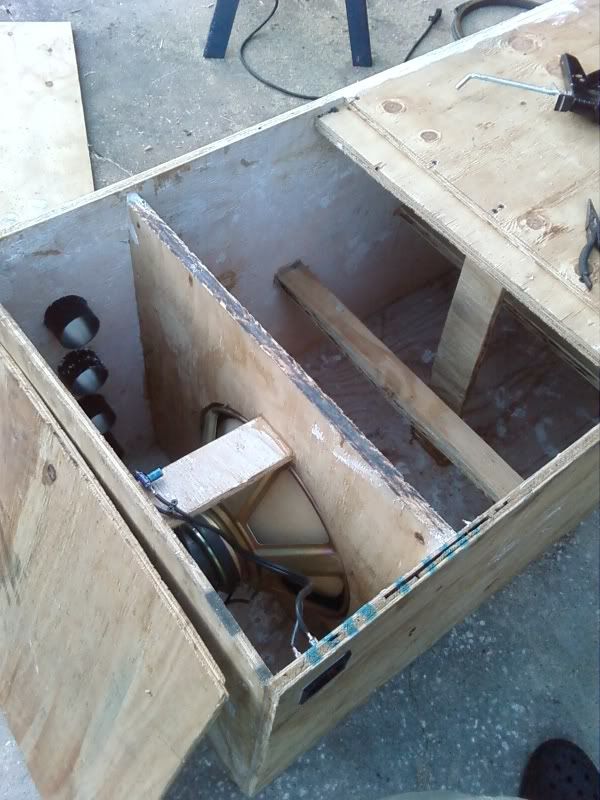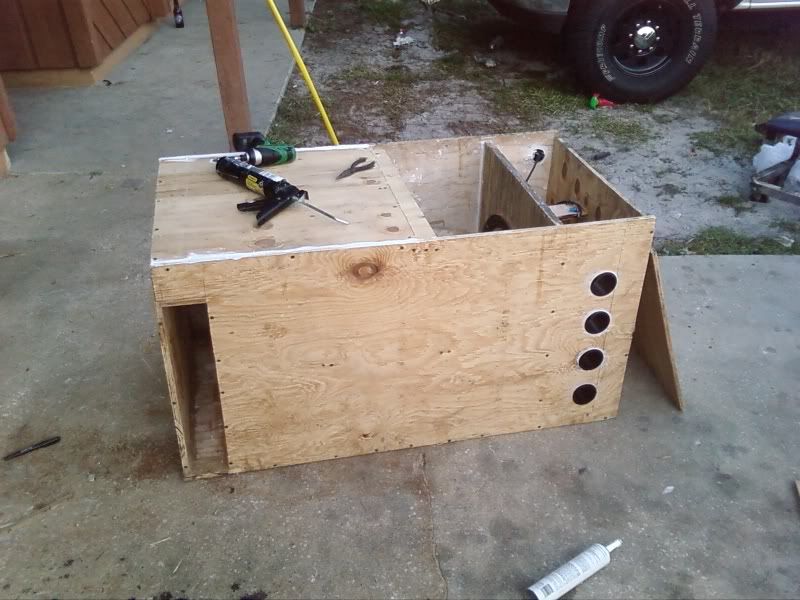 In the house ready for initial testing lol
outcome - My good amp is blown and being fixed currently (kenwood ka-701) so for test purposes all i have is an old yamaha that measures out around 25 watts at full tilt with massive distortion, but it can give me an idea of the response none the less for now.
It hits lows exactly how i wanted, in fact i think all of you would be surprised how much authority that cheap ass woofer has at 30hz. 40hz is powerfull but not as loud as 30. 50hz is lacking big time. get it up to 60hz and the top chamber starts making a lot of port noise and resonance (1/2" ply is really ****ty) but the spl is back. so I braced the **** out of the little chamber and the resonance went away. still plenty of port noise and the tone isn't very good. 2lbs of poly and some port noise goes away and i get some more authority between the two peaks, but overall response is laughably bad for use anywhere but reinforcement on an existing system.
its still an ongoing project but the next move is to make the high chamber bigger, tune it lower and see if i can pick up some spl in the 40-50 where i need it. it could use flare ports too but I probably wont spend the money.But even if i left it just as is, most people would still be thoroughly impressed with the low frequency output.
I will keep you posted, hope you enjoyed a taste of my brand of redneck hi-fi (or lo-fi?) lol.
by the way please, no bashing here, its just a fun project.