Discussion Starter
•
#1
•
I have been away from this site and others like it for a few years now. I have recently found the time to reengage into some things I want to do, and rebuilding the setup in my truck was high on that list. I have been shopping around for a few months now for new amps with the specific requirements of size and cost as my 2 biggest factors and of course quality but I think that's a given. I also needed to be able to have 6 active channels for a 3 way front stage plus a separate channel to support sub duties for a total of 7 channels minimum. My size constraint is driven by the fact that the vehicle is a regular cab Cheverolet Silverado, so space is at a minimum.
I was unable to find something I could commit to until last week when I viewed a video of a new amp that caught my eye. The video was of a new amp from a company called Toro Tech or Toro Audio, the company is brand new and is structured to only sell in online marketplaces like Amazon. Toro also offers full size amps as well, however it specifically was the comapnies micro amps that met my requirements for size and cost as well as being available in a 4 channel (MRx4), 2 channel (MRx2) and mono block (MR2) for a total of seven channels. Here is the link to the video from Dereck Williston, better known as BigDWiz, from his site at oldschoolstereo.com.
After watching the video he posted and seeing the performance vs. cost as well as size I figured I would take a chance on a new amp company. I purchased these amps via normal retails prices on Amazon, so before anyone asks this review was not funded or supported by the manufacturer. I purchased all 3 amps I am reviewing at the same time from Amazon for a total of 228.93 delivered, suggested retail of all 3 amps on Toro Audio's website is 599.85. I am not sure if we will see a price increase, however I was very happy with what i paid.
This may be a great time to say that i am not an expert on amplifier design, i am just a consumer that has been playing with amps for 25+ years. My review will be my opinion on things like asthetics, usability and functionality. I do not have the ability to measure output or give technical results, I just thought some might appreciate an enthusiast level review of something new.
Here are some basic images of what came out of the box from Amazon, even these boxes are tiny for an amp.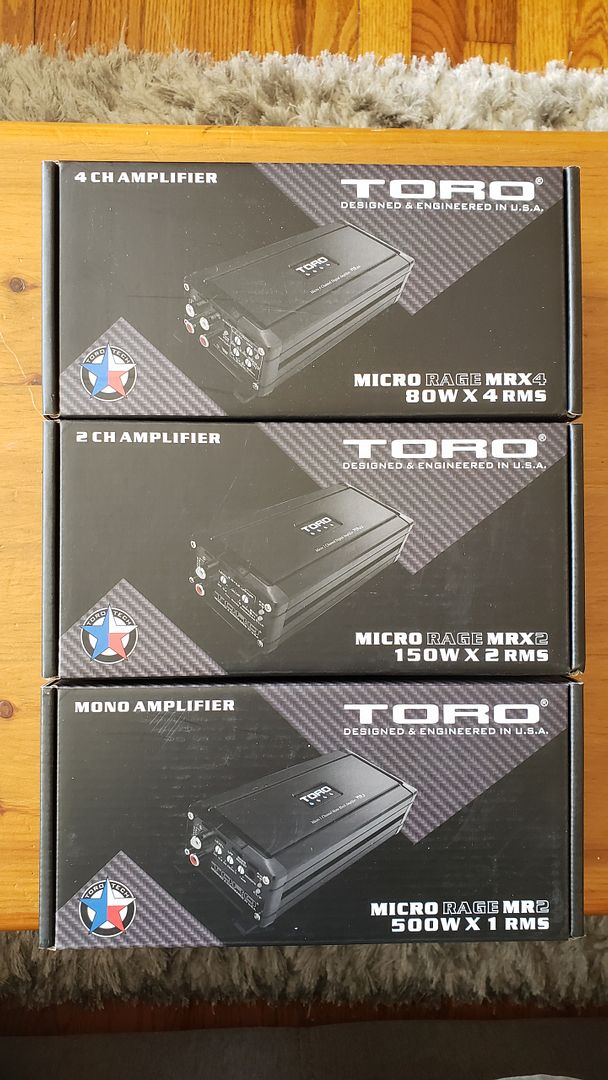 The boxes are so small that even the manual doesn't fit, it would have been nice to have the manual match the box size so it didn't have a fold in it.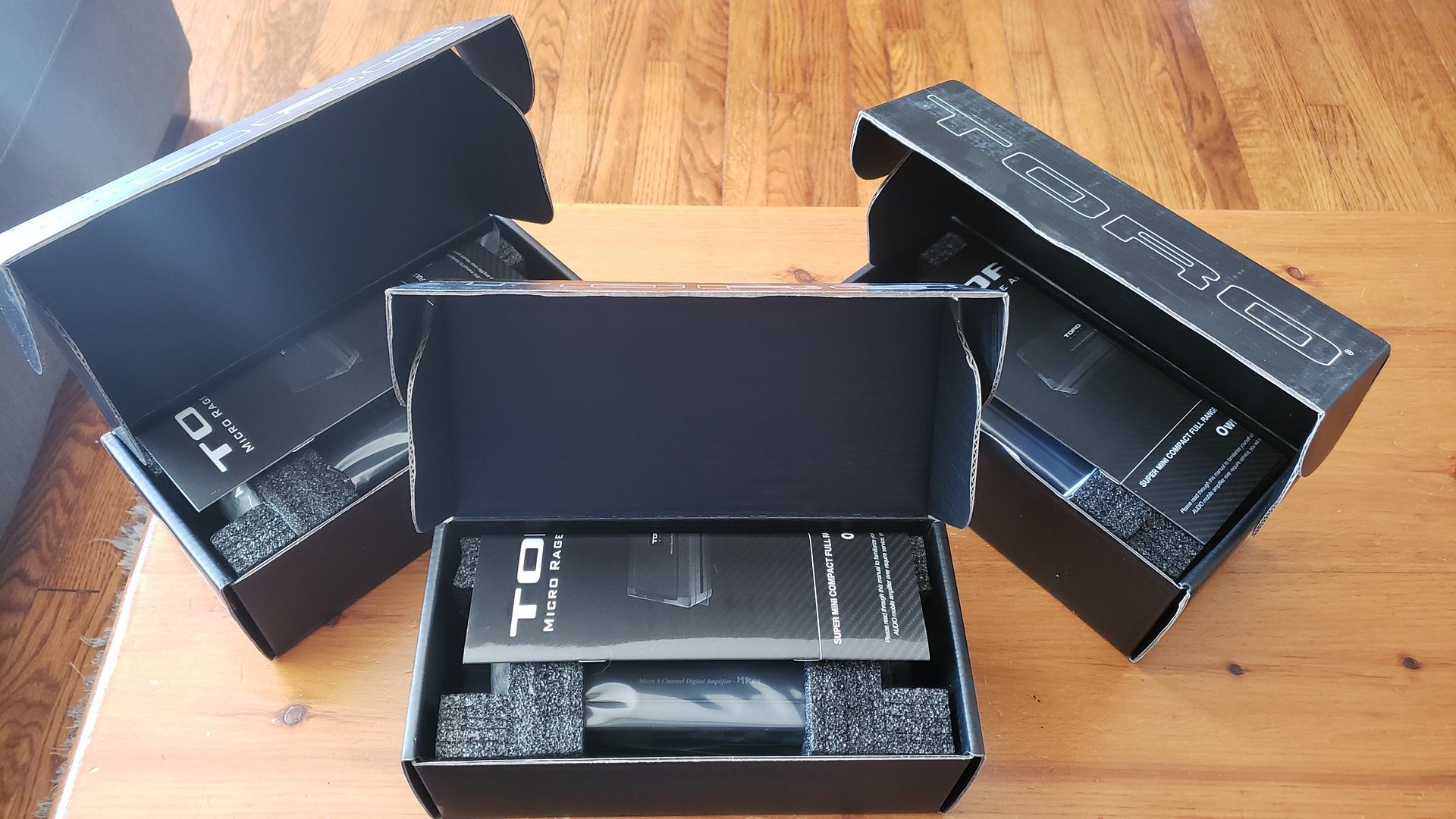 Contents are pretty basic, each box contains an amp, a speaker wire harness and four mounting screws and an allen wrench.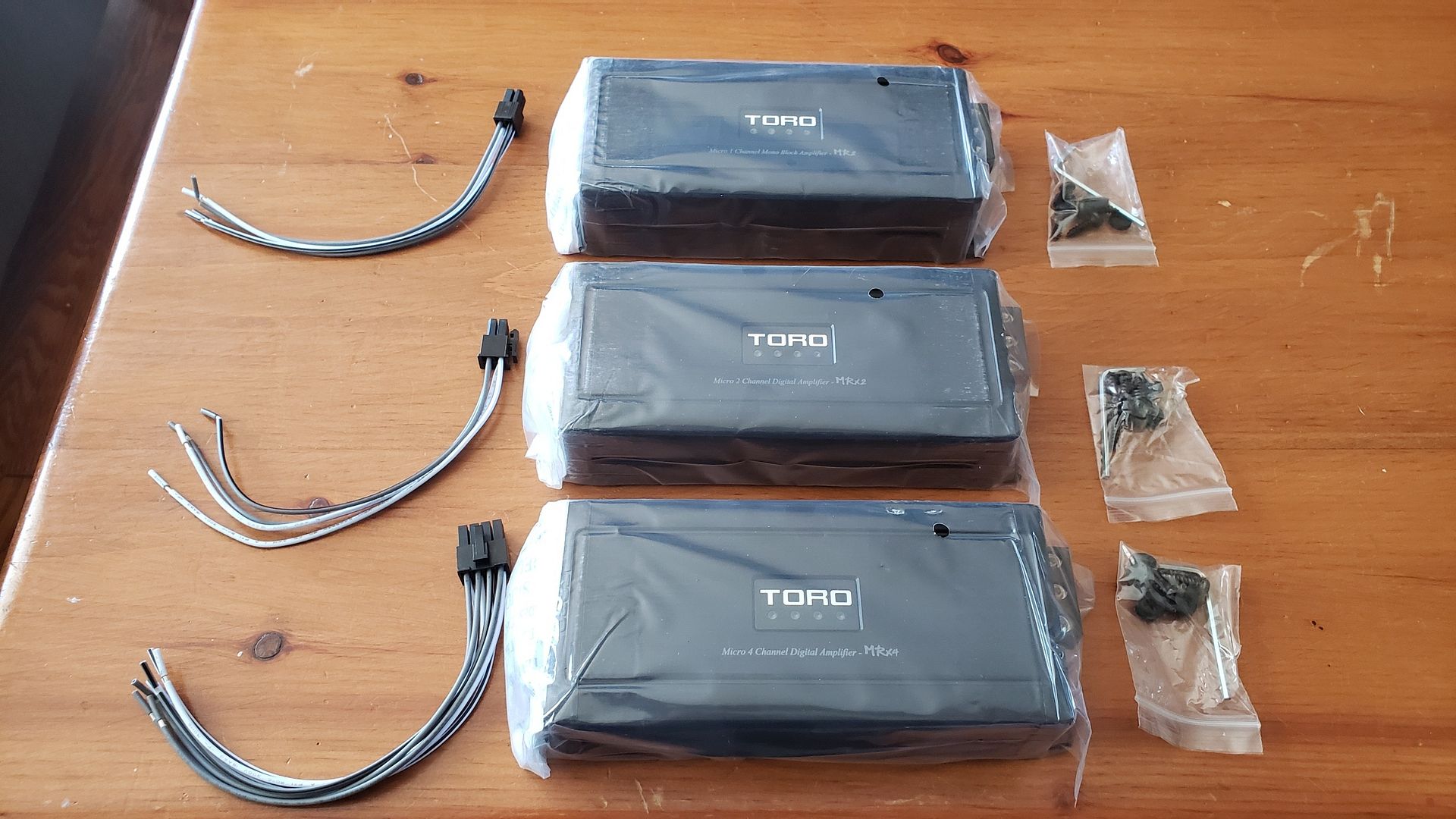 Each unit has its own crossover, I will be covering this more in depth in the future. I think the ability is here to do a full active system, however I will not say that for certain until i can review the features more in depth. I plan on running a seperate DSP so it was not a deciding factor for me prior to purchase.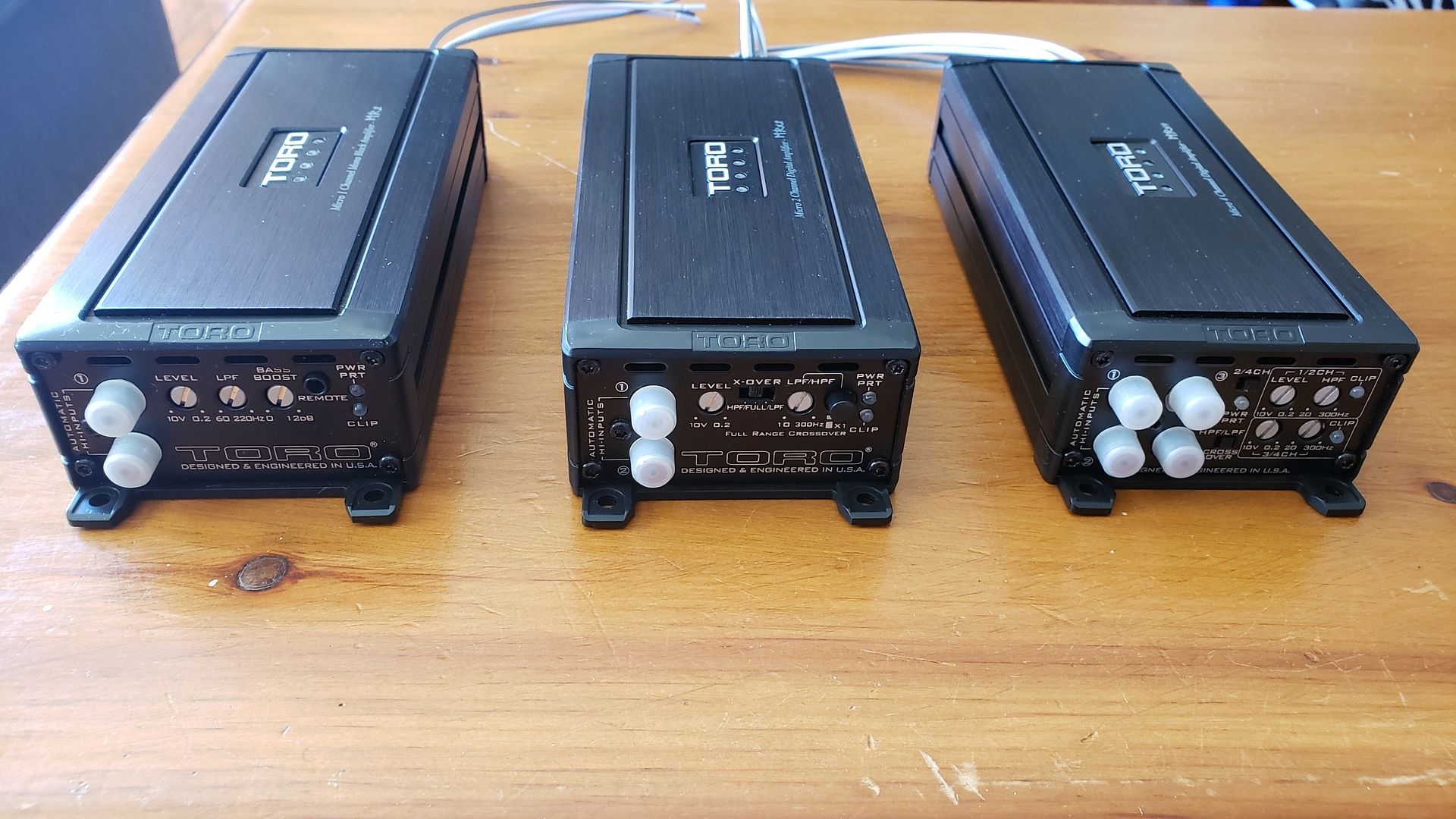 MR2 Mono block crossover details
MRx2 2 channel crossover details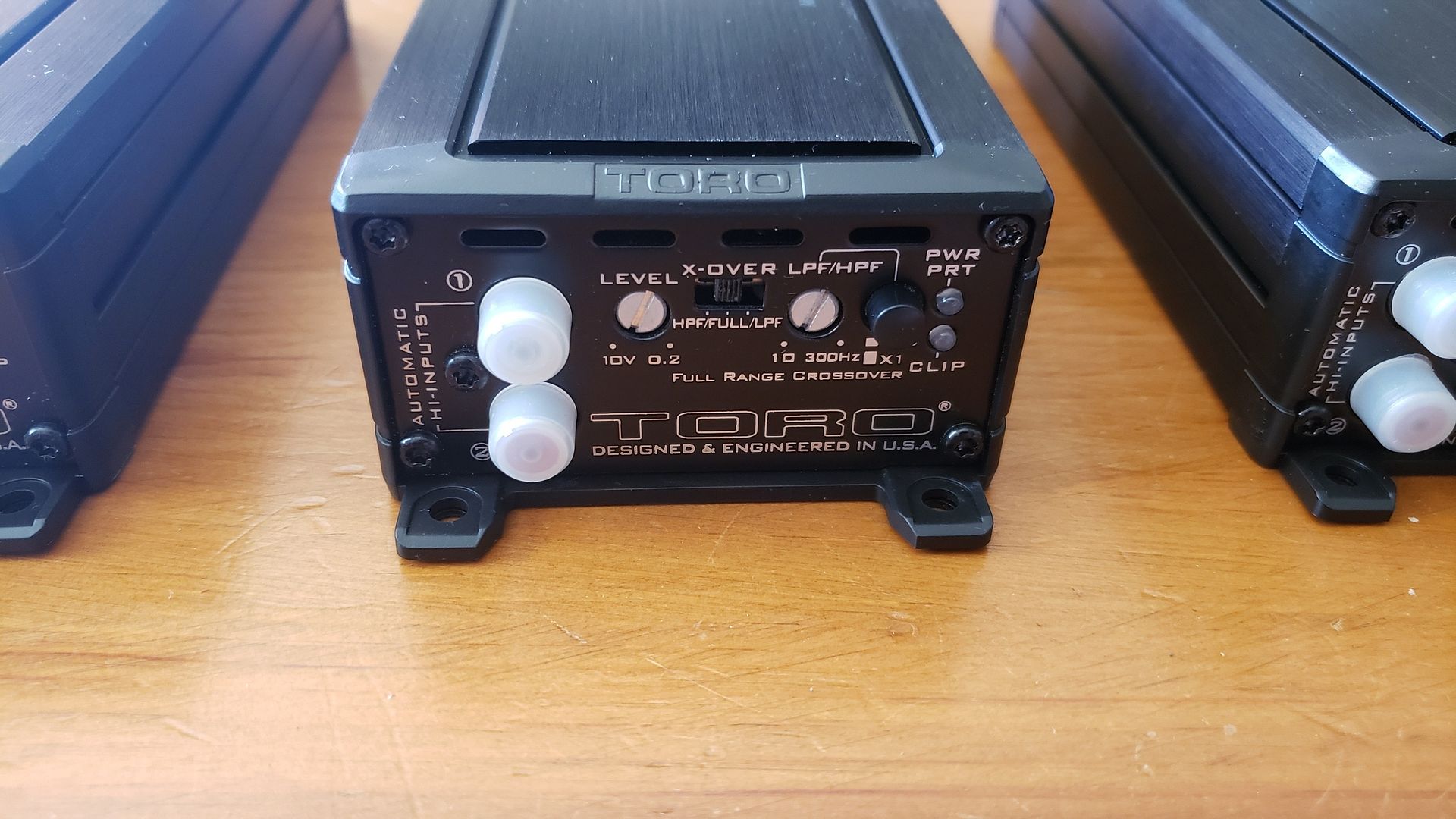 MRx4 4 channel crossover details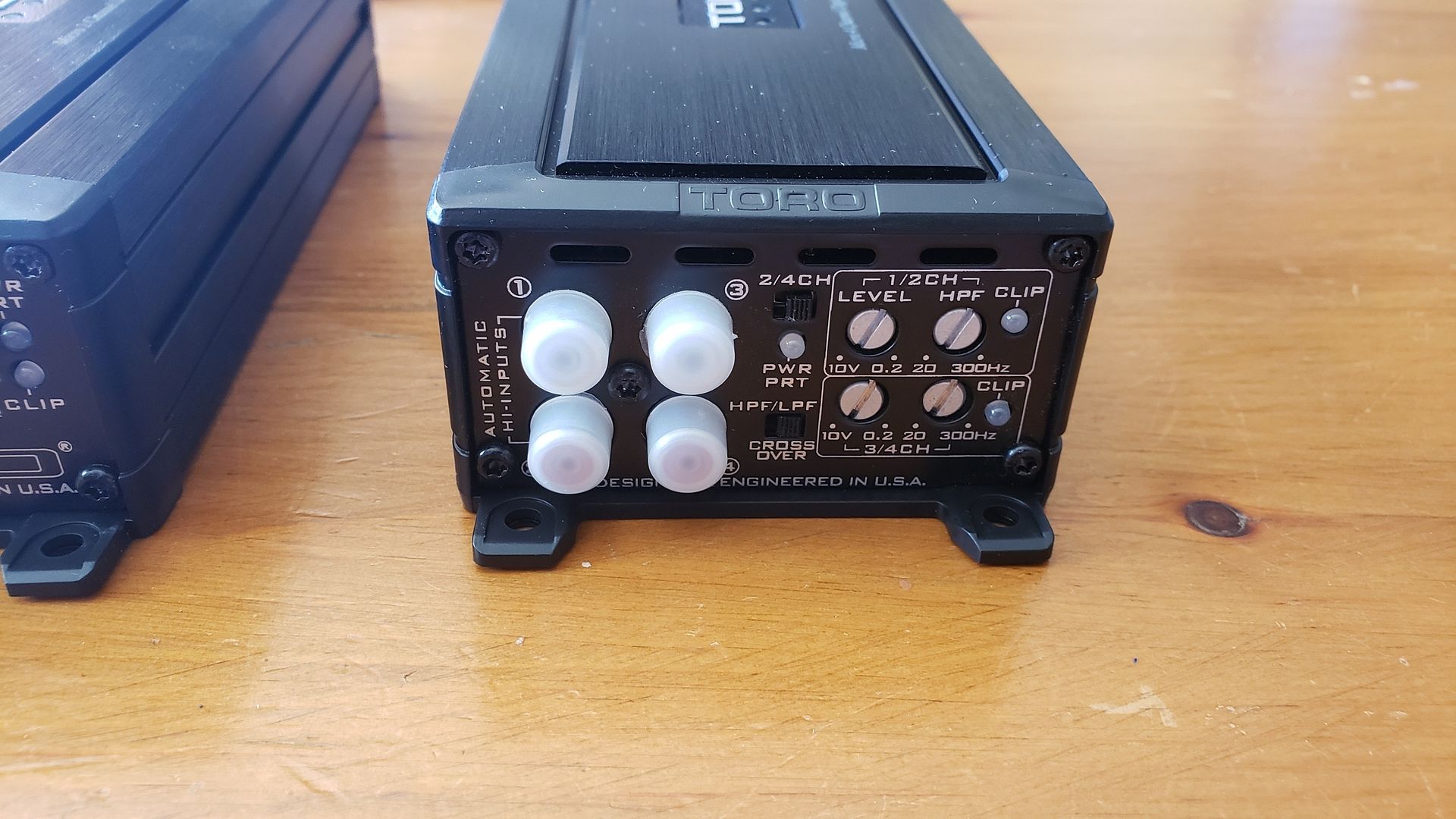 All 3 amps have RCA inputs and crossover settings on one end and speaker and power connections on the other end.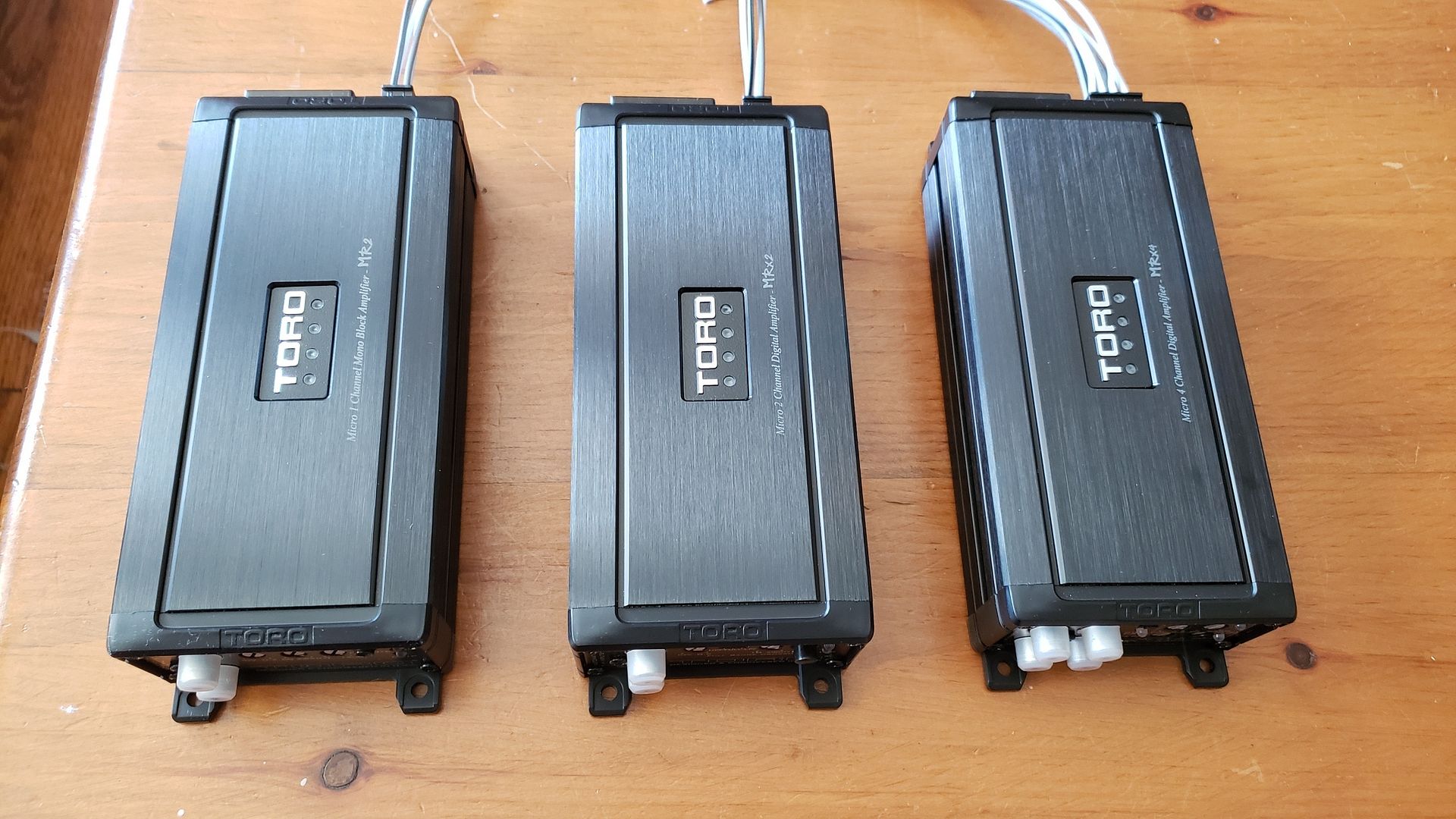 All 3 amps have 8 gauge power and ground with no built-in fusing and 18 gauge speaker wire output. The MR2 manual recommends merging the 2 18 gauge outputs of the positive side and the 2 18 gauge outputs of the negative side so that you get the equivalent of a 12 gauge wire. My guess is they did this to allow them to use the same speaker harness for both the mono block and the 2 channel. I would have liked to see connections here instead of a pigtail, 2 18 guage wires seems a bit small for an amp rated at 500x1 @ 1 ohm.
You can see here that the 2 channel and the mono block share the same layout for power/ground and speaker output.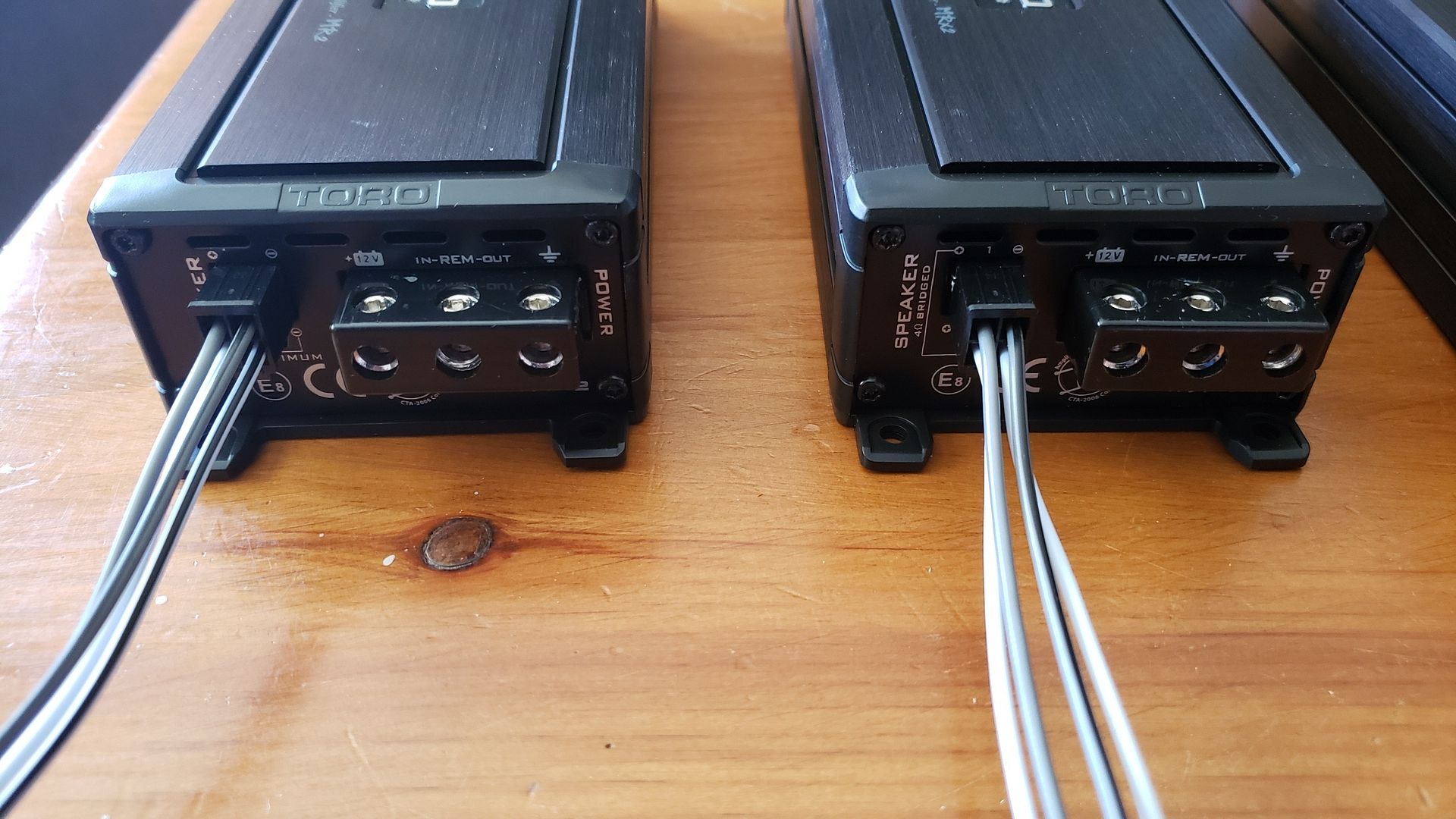 The 4 channel is very similar with a 4 channel plug in place of the 2 channel plug.
Here's a good size reference, the amp is barely bigger than a dollar bill.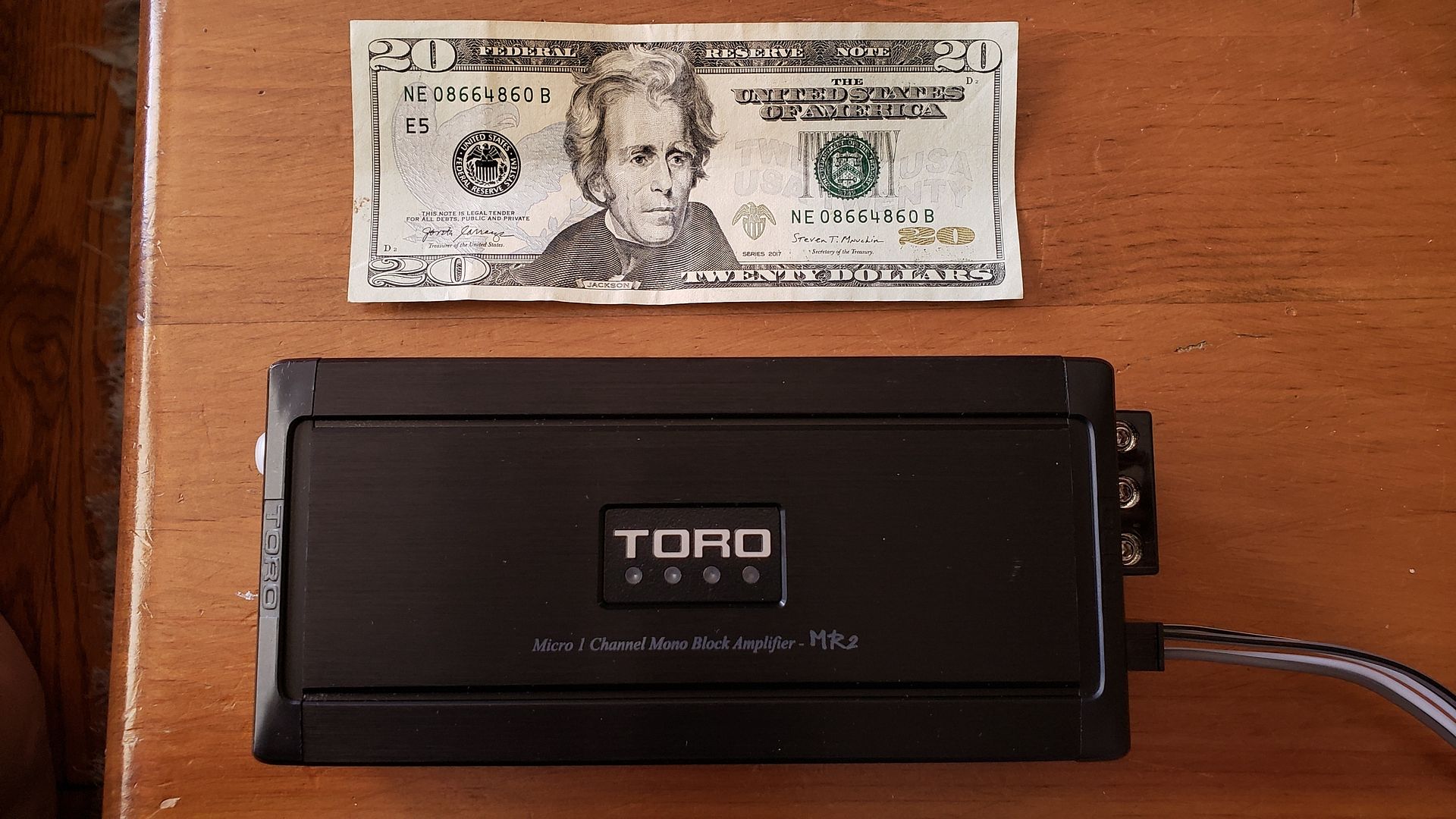 Total length is right at 7.5", interestingly Toro lists the length at 5.8".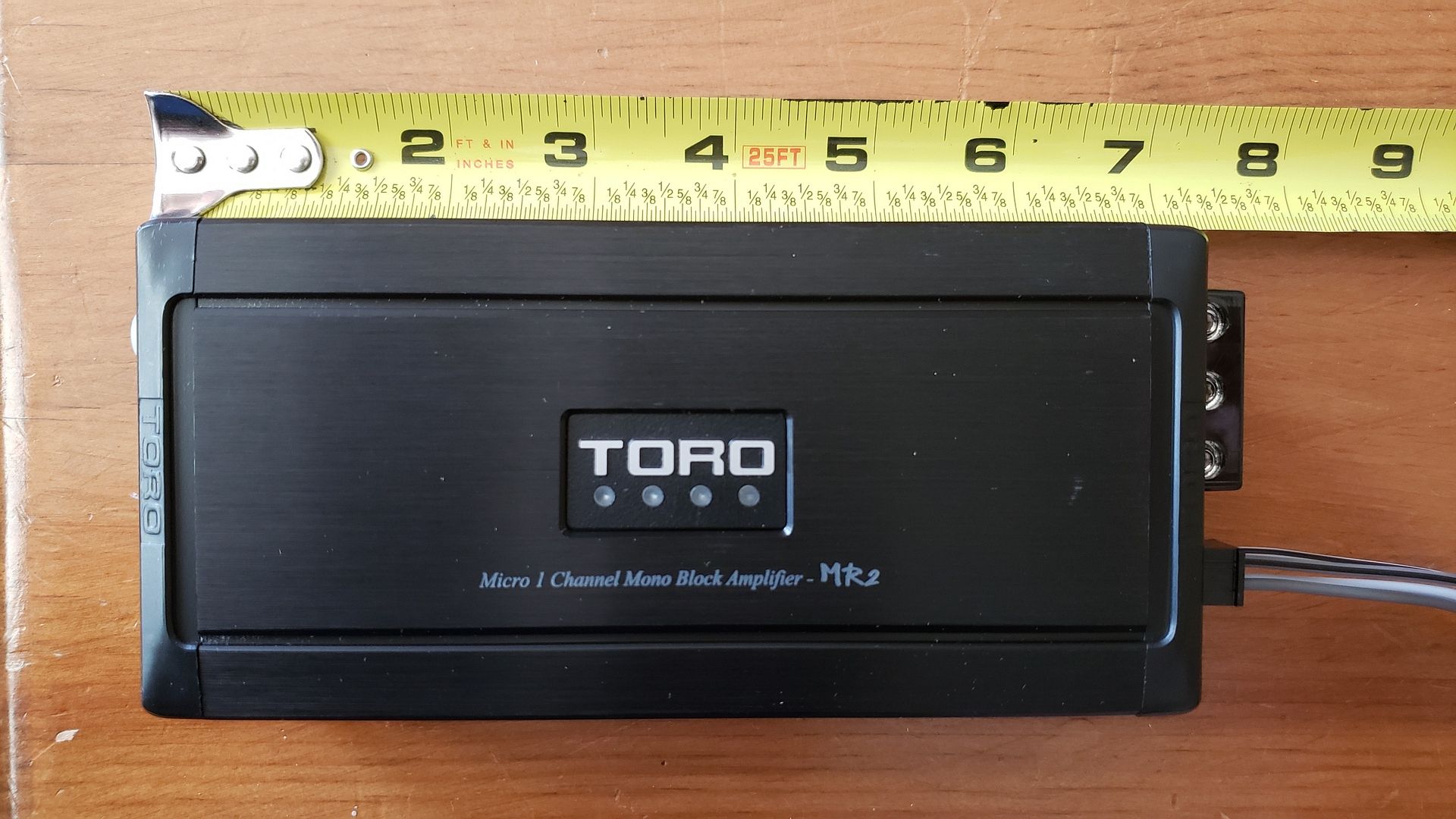 Width was right at 3.25".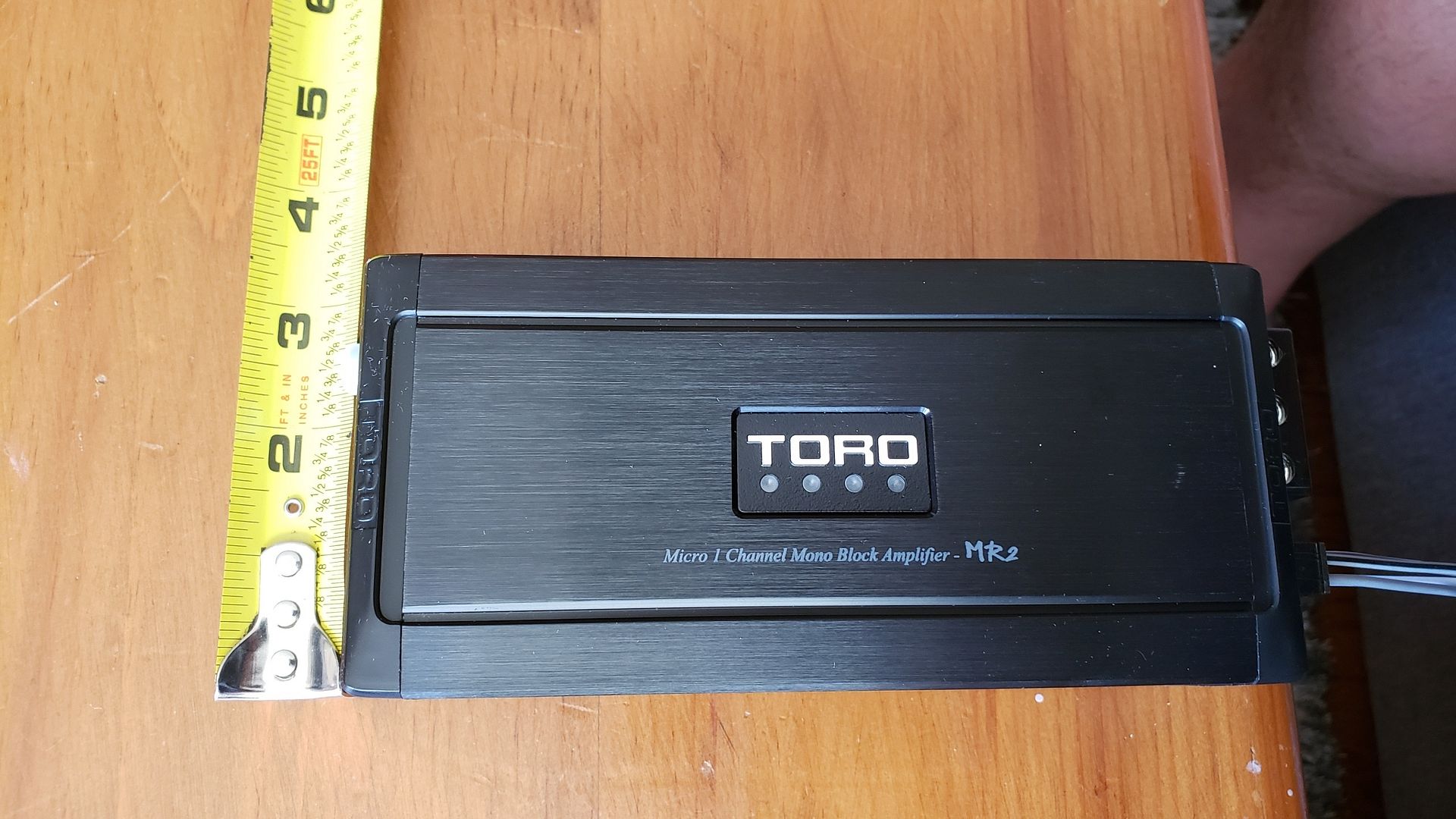 Height was right at 1.7"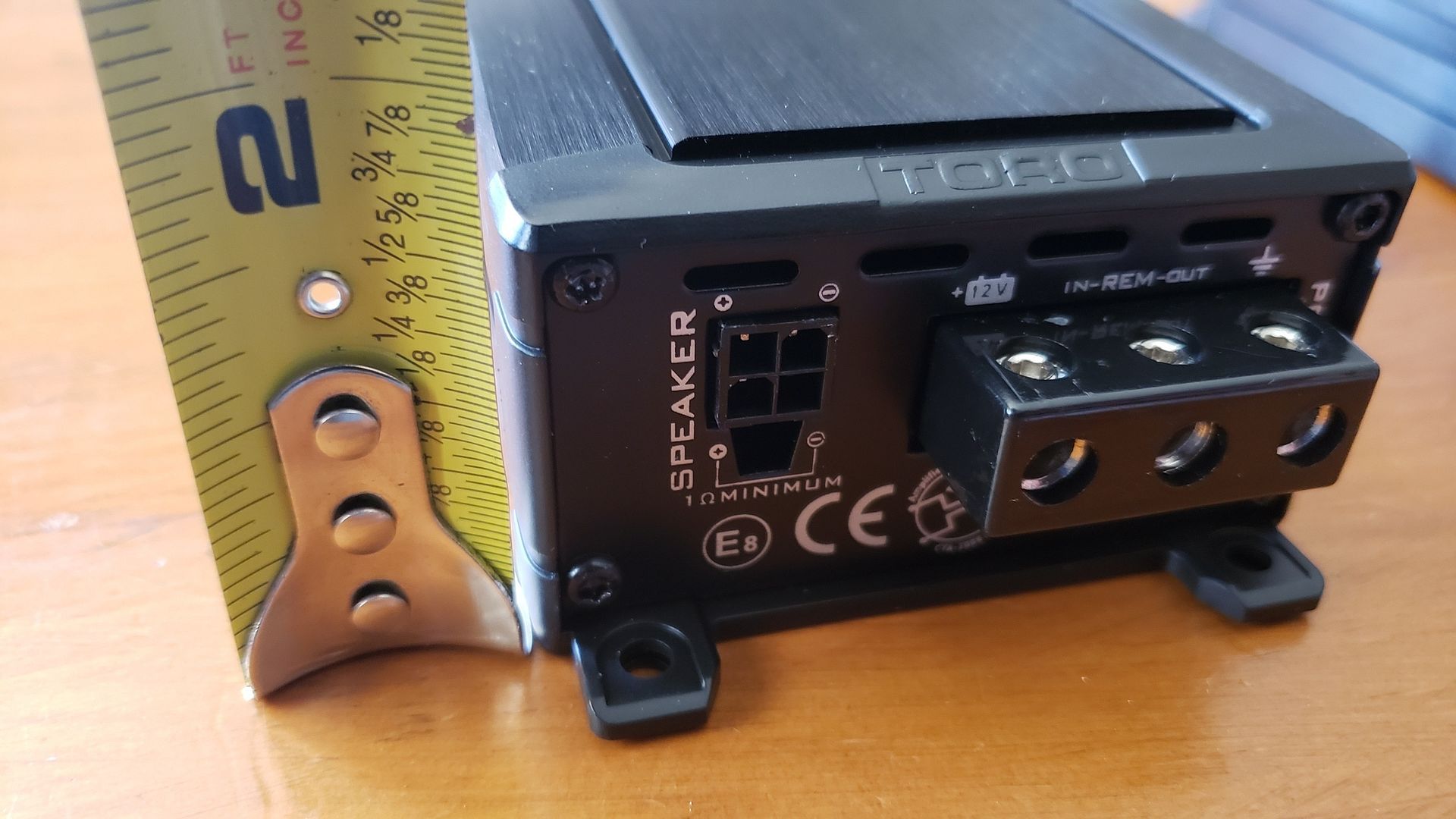 I put all 3 amps on the scale just out of curiosity, they were all right about 25 oz.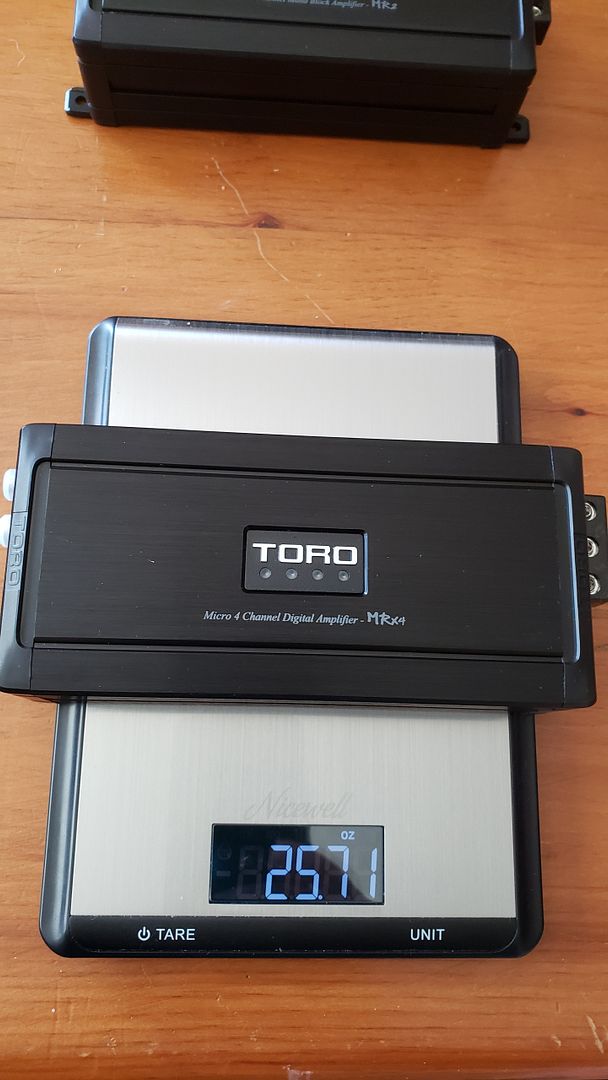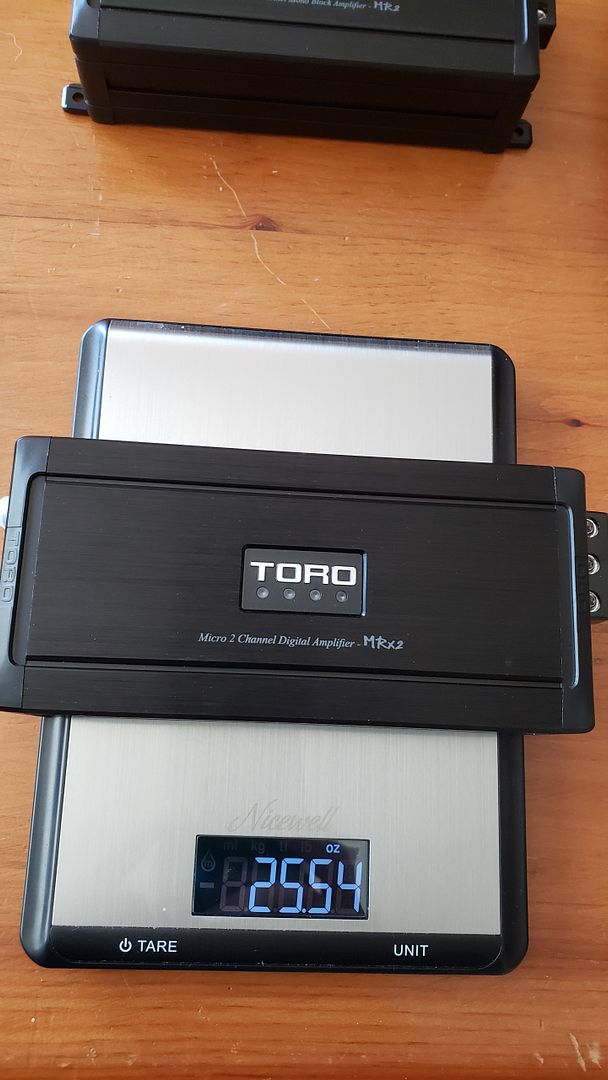 Overall my first impressions are good. I think the amps are good looking, they have a brushed metal finsih that is very dark. I think they are classy looking and would look good in most automotive interiors. I dont love the speaker connections and the lack of fusing, however I recognize that both of these are are required to get the amp as physically small as it is. I am excited to get a chance to fire them up in the coming weeks and get a better feel for their performance.
Here are the hard numbers for anyone that is interested.
MR2 Mono
4ohm - 230W X 1
2ohm - 320W X 1
1ohm - 500W X 1
MRx2 2 channel
4ohm - 150W X 2
2ohm - 250W X 2
4ohm Bridged - 500 X 1
MRx4
4ohm - 80W X 4
2ohm - 130W X 4
4ohm Bridged - 260 X 2