Discussion Starter
·
#1
·
I've been out of the game for a long time and after spending some time lurking the forums my interest in car audio is becoming a problem again
.
Budget, availability, weather and a variety of other random factors should make this somewhat different from the average build log. If nothing else the order at which some things were done. I'm doing much of the work on the driveway...in the winter. Don't chalk this up to "some crazy canuck" because I spent the last 6 years in Playa Del Carmen, Mexico...so I'm 3 times as cold as anyone else out here. I just hate all these awesome builds and me sitting around doing nothing about it.
Two words, Multiple layers
I'd also like to point out that I am complete Clineselect groupie. Seeing his build log definitely inspired and motivated me to get my audio system in check. I've also asked him more than my fair share of questions so I'm hoping some of the things I've come across and learned will be useful to others. Thanks Clineselect :thumbsup:
My equipment selection is still in the works and was started off by a simple need. Entertaining the 7 year old while in the back seat. Seeing as I'm working with an extremely limited budget that was the next factor that was considered in most of the equipment selection.
That brings us to the head unit. I'm working with a Jensen VM9311TS in-dash DVD. Yup...pretty crappy, but after all was said and done it was cheap and for now it fulfills my purposes...movies for the kid.
Total cost of Jensen 9311 project was about $190 US
I've really, REALLY wanted to go with a 3 way setup for the longest time so I'm hoping I'll be able to pull it off.
A while back my buddy donated most of his old audio gear which included some Canton Pullman 325ti tweeters. So that's where my equipment started.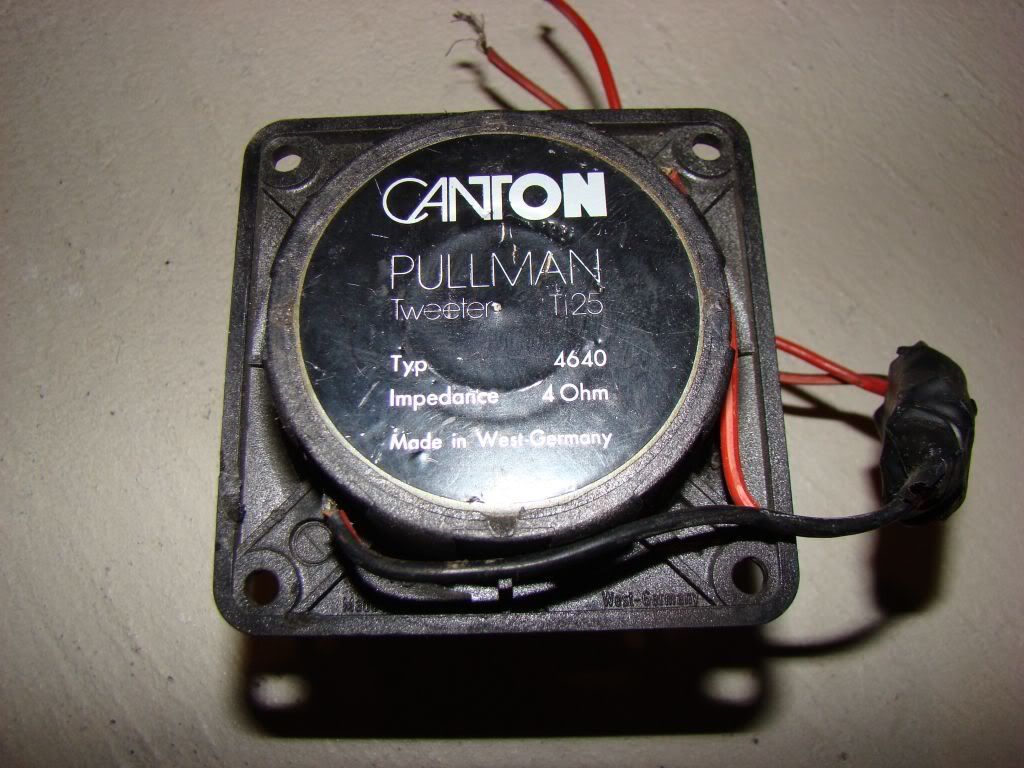 He used to run these in a full size van off a PPI a204 and they were awesome. Super clear sounding and loud, but other than that, I don't have any more information on them. If anyone has some literature, I'd love to see it.
Total cost of tweeters: FREE!!!
Next up I found a pair of Seas L12RCY locally for a good price. Not many people in this forum (or others for that matter) running these but they look pretty good on paper..and the price was right
Total cost of Mids: $75 Canadian
I drove around for a few weeks listening to the factory "premium" infinity system rattling in the doors and HAD to do something. This was months prior to me even really thinking about a decent system in the truck, that's how much the rattling was pissing me off.
So I ended up using some Fatmat Rattle Trap mostly because it was local and "cheap".
Total cost of Fatmat: $160 Canadian for 100 sq. "kit" (kit means a cheap exacto knife and roller)
I ended up going a bit nuts and using the whole 100sq feet only in the front doors.
We've all seen deadening a million times so I'll be very brief.
Inside and outside done. I'll probably add another layer of deadening once I get my hands on some better product...but that's a bit later on down the line, like summer time. I'll also add some ensolite at that time.